Worth Clark Realty starts out 2020 with a bang, experiencing 30%+ growth in both closed transactions and closed volume company-wide!
Combining all markets, closed transactions increased by a significant 30% versus quarter 1 in 2019, only to be outdone by closed sales volume which saw an even higher increase of 37%!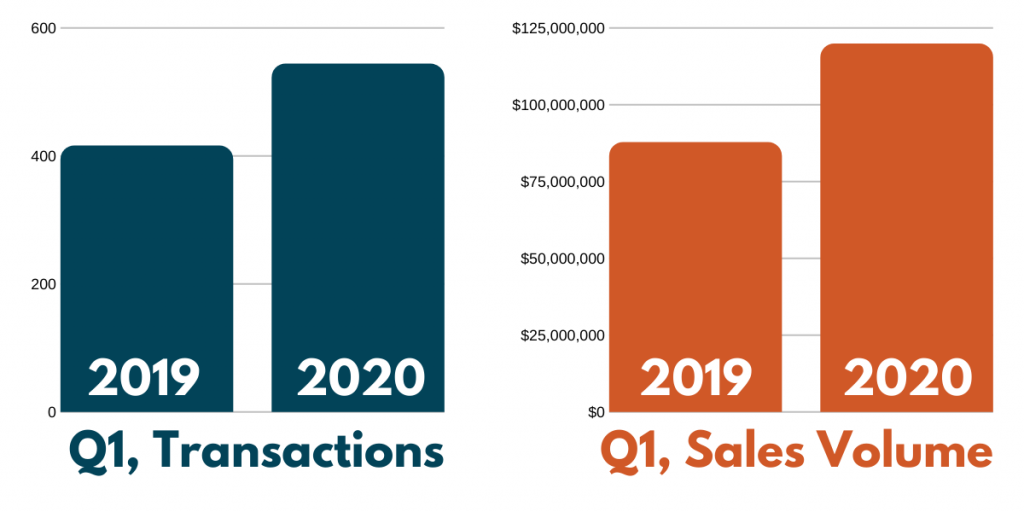 This continued growth underscores the year by year trend at Worth Clark. Last year, WCR recorded a 32% increase in transactions and a 35% increase in sales volume compared to 2018, and 2018 saw a 28% increase in transactions and a 44% in sales volume vs. the year prior. This consistency is directly attributed to the platform Worth Clark Realty offers to Realtors. Providing them with more value, compensation, freedom, and now the opportunity to become a shareholder with the company. Worth Clark Realty has been named by Inc. Magazine as one of the fastest-growing companies in the United States for 5 years in a row.
Adding insight to our Q1 stats are Kaitlyn Barks and Kristen Beahm from KB Collective, one of our top-producing teams in STL.
Q. What are your thoughts about WCR Q'1s growth? (Quarter 1, WCR experienced a 30% growth in transactions (over last year) and a 37% growth in sales volume over Q1 last year).
A. We're excited to see such impressive growth for the company! It speaks volumes to WCR's commitment to excellence for its agents and clients alike. It also comes as no surprise as more and more agents discover the value in joining WCR, too. With our strong agent growth, increased sales volume, and growing brand recognition in the marketplace, these numbers will certainly continue to trend upward.
Q. Why/how do you think WCR helps you excel?
A. WCR allows us to run our business our way, with incredible support behind the scenes. The flexibility offered by WCR lets us tailor our offerings as needed to serve our clients in the best ways possible.
Q. What are your favorite WCR tools?
A. We love the partnership with Transactly for transaction coordination services, and the Facebook community, too. On top of that, it's amazing to be able to conduct all business remotely – now more than ever!
Q. Do you think it's important to connect with your local community and how do you do that?
A. Absolutely! We partner directly with a local organization called Angels' Arms. They are an amazing group dedicated to providing and supporting loving homes for foster children by keeping brothers and sisters together within a nurturing family until a forever home is found. For every transaction closed, we donate $50 to the organization. We also host smaller ad hoc fundraisers for the organization throughout the year on social media. Last fall, we hosted a coat drive and helped secure over 50 new coats for their current foster kids.
Q. You have great social profiles (congrats!), what do you believe has been the key to your social success?
A. Thank you! If you follow us, you know we spend a lot of time here! It's our way of authentically connecting with our sphere of influence. We share the good, the bad, and the (sometimes) ugly sides of real estate to hopefully add value and serve as a resource for our followers.
Instagram, Facebook & TikTok are all @yourstlrealtors
Q. How has your professional process changed/innovated during the past couple of months?
A. We already do A LOT of business online, so we haven't had to make any big changes to our processes. We have added in some virtual listing appointments using Zoom and FaceTime, and we've added a video or 3D tour to most listings.
Q. What would you say to agents considering joining WCR?
A. Just do it!
Ready to grow with us? Whether you're a new or experienced agent, reach out now and take advantage of our new Agent Ownership Program, broker support, technology, 100% percent commissions, and training.