Worth Clark Realty Expands It's Texas Footprint!
Austin, TX – Worth Clark Realty is officially expanding brokerage operations to Austin, Texas! Already servicing the Dallas-Fort Worth Metroplex in Texas, our expansion efforts are fueled by a desire to provide Realtors® with an all-around better real estate experience. Including but not limited to company shareholder options, on-demand broker support, unbeatable compensation, superior training, and more
Worth Clark is and has been one of the fastest-growing real estate companies in the United States for several years, with brokerage office locations throughout Texas, Colorado, Kansas, Missouri, and Illinois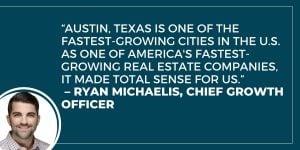 More Value and Support for Agents
Worth Clark currently employs over 600 licensed agents throughout 5 states. We're expanding rapidly in Texas and beyond because we simply offer agents more value and support. Looking for on-demand answers to eliminate contract bottlenecks, last-minute inspection questions, or local resources? Then you should consider Worth Clark. Our agents consistently rate our support as a 9.5/10!

About Worth Clark Realty
Worth Clark Realty is a full-service agent-owned real estate brokerage. We help individuals and families with buying, selling, and leasing real estate property. We are one of the fastest-growing real estate brokerages in the nation, having recently been named to Inc. Magazines' list of fastest-growing companies five years in a row.

Worth Clark's company headquarters are located in Chesterfield, Missouri, with additional offices in Illinois, Kansas, Colorado, and Texas.