Houston, Texas Get Ready!
Houston, TX – Worth Clark Realty, one of the fastest-growing virtual agent-owned real estate companies opens in Houston, Texas! Already servicing the Dallas-Fort Worth Metroplex and Austin metro in Texas, Worth Clark's brokerage platform is ready to enable entrepreneurial spirited Realtors® in Houston with the freedom, flexibility, and unique tools not offered by traditional real estate companies. Worth Clark has experienced rapid adoption from real estate professionals who demand more from their broker.
Worth Clark currently employs over 600 licensed agents throughout five states and nearly a dozen major markets. With our agent-first approach, Realtors® at Worth Clark Realty receive the best in broker support, compensation, technology, and training.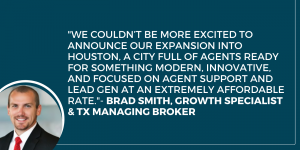 Agent Ownership At Worth Clark
Agents looking to take back control of their real estate business and do away with brokerage restrictions, exorbitant splits, and unnecessary fees can discover all that Worth Clark Realty has to offer and even become agent-owners by earning shares in the company. 

About Worth Clark Realty
Worth Clark Realty is a full-service agent-owned real estate brokerage. We help individuals and families with buying, selling, and leasing real estate property. We are one of the fastest-growing real estate brokerages in the nation, having been named to Inc. Magazines' list of fastest-growing companies five years in a row. Worth Clark's company headquarters are located in Chesterfield, Missouri, with additional offices in Illinois, Kansas, Colorado, and Texas.