San Antonio, Texas Welcomes Worth Clark Realty
San Antonio, Texas- Worth Clark Realty has officially widened its Texas operations to now include the beautiful city of San Antonio! Already gaining steam in recent market additions of Dallas-Fort Worth, Austin, and Houston – San Antonio is an obvious next step for the company's Texas expansion efforts. Worth Clark is thrilled to now provide agents in San Antonio with a game-changing brokerage platform and the ability to take back control of their real estate business.
Worth Clark currently employs over 600 licensed agents throughout five states and nearly a dozen major markets. With our agent-first approach, Realtors® at Worth Clark Realty receive the best in broker support, compensation, technology, and training.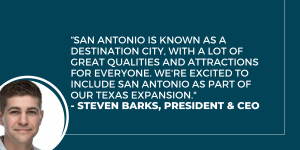 100% Commission at Worth Clark
Worth Clark Realty does not believe in the one size fits all traditional-brokerage approach and provides agents with the best compensation plan possible, putting 100% of their hard-earned commissions in their pocket. Discover 100% compensation and complete transparency on fees by requesting a custom commission proposal below:

About Worth Clark Realty
Worth Clark Realty is a full-service agent-owned real estate brokerage. We help individuals and families with buying, selling, and leasing real estate property. We are one of the fastest-growing real estate brokerages in the nation, having been named to Inc. Magazines' list of fastest-growing companies five years in a row. Worth Clark's company headquarters are located in Chesterfield, Missouri, with additional offices in Illinois, Kansas, Colorado, and Texas.