A well-maintained and comfortable home, beautiful trees, and hardscapes make your property a valuable commodity, especially if you have it on the market. Property values aren't all about dollars and cents, and landscaping is more than planting a few flowers and trees. Enjoy your investment now with these design trends that increase the value of your home.
Grass Design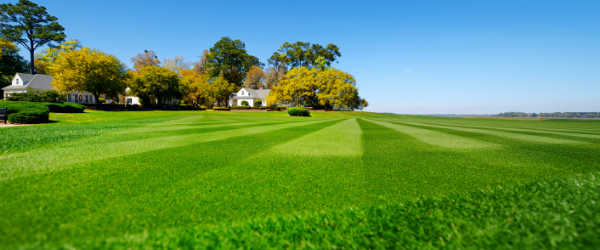 Mowing in straight cut lines is standard. But creativity awaits with zigzags, diamonds, arches, squiggly lines, and checkerboards. When striping in various patterns, grass blades bend in different directions to reflect sunlight or dark green. Next to each other, single grass blades with alternating dark and light stripes look striking. Lawn striping rollers and kits are available at your local hardware store.
Trees and Shrubs
When designing the landscaping, you can cut down on your home's utility bills by layering trees and shrubs (according to size and thickness). Deciduous evergreens provide shade to protect the building from direct sunlight. Thick trees shield the house from strong winds that may seep through leaky windows.
Front Yard Gardens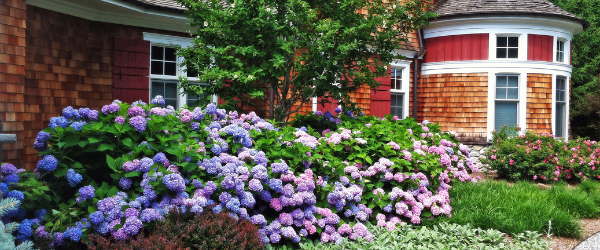 Gardens don't have to be designated for the backyard only. Plant some flowers and vegetables in your front yard. Native plant gardens with brightly-colored blooms and ground covers attract birds and butterflies, and your neighbors will enjoy the scenery. Native species are disease and pest-resistant, can handle the climate well, and don't need much water.
Rain Gardens
Properties near rivers, streams, or lakes may have poor water drainage in the yard, especially after a hard rain. Rain gardens reduce erosion and prevent stormwater
 from draining into nearby watersheds. Brighten up the yard with goldenrod, spider lily, and blue flag iris. Add ornamental grasses and a few shrubs to round out the visuals.
Hardscaping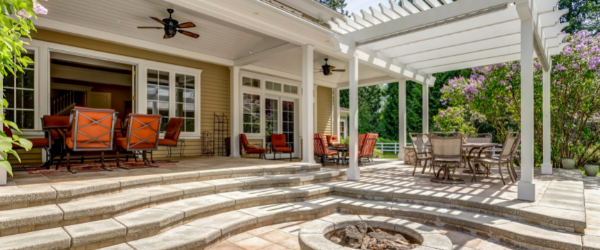 Dress up the backyard with stone walkways, an outdoor kitchen, gazebo, built-in barbecue, and fire pit. Patios and decks with slatted overhead pergolas give your backyard a coziness to last year long. If the house has a balcony or terrace, you can design a space with light hues and neutral colors to help make small spaces feel larger.
Xeriscaping
Xeriscaping is a low-maintenance garden of stones, structures, and drought-tolerant plants from rocks to decorative grasses. Rocks help to seal moisture into the ground. Xeriscaping with drought-tolerant greenery is an oasis with fewer diseases to deal with and fewer weeds to pull.
Techno-Yards
Backyard technology is a trend. Artificial Intelligence (AI) controls everything from outdoor lighting to robotic mowers to lawn sprinklers and barbecues. Let a home technology expert set you up with useful AI that makes the backyard work for you.
Water Features and Fences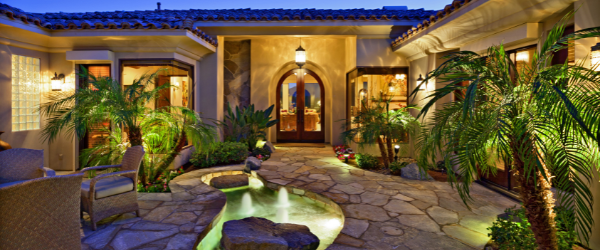 Relax in a swimming pool or hot tub. Sparkling water in sunlight and the sounds of a waterfall are pleasant distractions after a long, hard day. Think about installing a water fountain, birdbath, and koi pond. Neighborhood fencing restrictions may decide what kind of material to use. High fences keep unwanted visitors and prying eyes away from your pool and tub. Tall green hedges make great privacy fences, too.
Advantages of Hiring a Landscaping Pro
Do-It-Yourself is an economical way to get the job done. But when it comes to designing the outdoor layout of your home, landscape architects know what types of trees and shrubs to plant and where to place them. The best reason to forget DIY? Landscapers do all the heavy lifting and digging – that's a value in itself!
Becky Moore calls herself a dedicated DSIY — a "Do-Some-of-It-Yourselfer" — who writes about home and landscaping issues. She and her equally handy husband have moved into and refurbished a new (to them) house every two years for the past decade.