At Worth Clark Realty, we definitely do not believe in the one size fits all approach. We most definitely do believe old-school commission splits are the thing of the past. That's why we offer the best compensation plan that puts 100% of your hard earned commission in your pocket.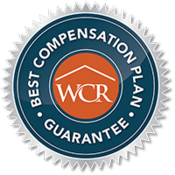 Splits Don't Make Sense
If your current broker is taking a large split of your commission, you have to question why. If you're on a 70/30 split, is the broker doing 30% of your work? Probably not. So, why should the broker receive 30%? Worth Clark deducts a very modest transaction fee per sale based on what we've calculated to provide support, E&O and all the great tools we offer, on a per transaction basis. We've yet to find another broker that allows real estate professionals to keep more of their hard earned commissions.
See how much you could earn @ WCR
What you would have earned
@Worth Clark
More in your pocket
at Worth Clark
# transactions in the last 12 months?
Gross Commissions Earned (past 12 mos.)
Per Transaction Fee (if applicable)
LET'S TALK

Schedule a time to speak with our team about joining.
"The managing broker is on top of the technology. He returns my calls and emails in a timely manner and is always willing to help. The commission split is fair with no high franchise fees to pay."

Nellie Harris
Denver REALTOR®
"WCR has given me the flexibility to put my family first and run my business how I see fit. The technology allows me to work whenever and wherever I am!"

Tasha Coleman
Kansas City REALTOR®